When it comes to soaking up some sunshine, basking in the beauty of nature, and having some outdoor fun with family and friends, there is no better place than Washington D.C.

With a wide array of parks, trails, monuments, and exciting recreational activities and events, D.C. truly has something for everyone! If you're searching for some fun ways to get outside and take advantage of the warmer weather, look no further!
1. Hike at Great Falls Park
Merely a short 15-minute drive from D.C., Great Falls Park is a gorgeous 800-acre national park with breathtaking views of the Potomac River. As you enjoy nature with the family, you can reflect on the deep and rich history of our nation's early days. Besides that, you can also participate in a myriad of fun activities such as birdwatching and fishing or hiking, climbing, and bicycling along the different trails. The picnic tables and grills provide the perfect place for a delicious meal and a bit of relaxation. Make sure to bring your picnic basket! Don't forget to bring your camera or phone to snap some great photos and remember these memories.

Be sure to stop by the Visitor Center and Bookstore for additional resources and information.
2. Take A Stroll Through the National Arboretum
For lovers of nature everywhere, the U.S. National Arboretum is something you simply will not want to miss! Established in 1927 by Congress, this 446-acres botanical garden is filled with vibrant flowers, exotic plants, and a wide and diverse variety of trees. If you're looking to get outside and learn about nature, exploring this garden is your best bet. Open from 8 am to 5 pm every day, the National Arboretum provides an exciting selection of hiking and walking trails and events and programs. Stunning in every season, the Arboretum will keep you coming back for more breathtaking sights and outdoor excursions. Be sure to bring your camera to capture the dreamy landscape!
3. Horseback Ride at Rock Creek Park
Wrapped within this charming and historic city is the gemstone known as Rock Creek Park. If you are looking to get away from the daily bustle and enjoy some quality time with the family, what better way to do that than come to this tranquil haven? If you are a horse-lover, you are sure to be delighted by the horseback riding offered here. Never ridden a horse before? Not to worry! The staff will be happy to help you and answer any questions you may have. You can also play a game of tennis at the gorgeous courts, sing along to a fabulous concert in the amphitheater (make sure to check the schedule for Covid guidelines), or enjoy some tasty snacks at one of the many picnicking sites. If you have children, you may be interested in some of the many ranger and educational programs. This is the perfect opportunity to teach the next generation about nature and conservation efforts. There is no shortage of things to do or ways to exercise in this beautiful 1700-acre park.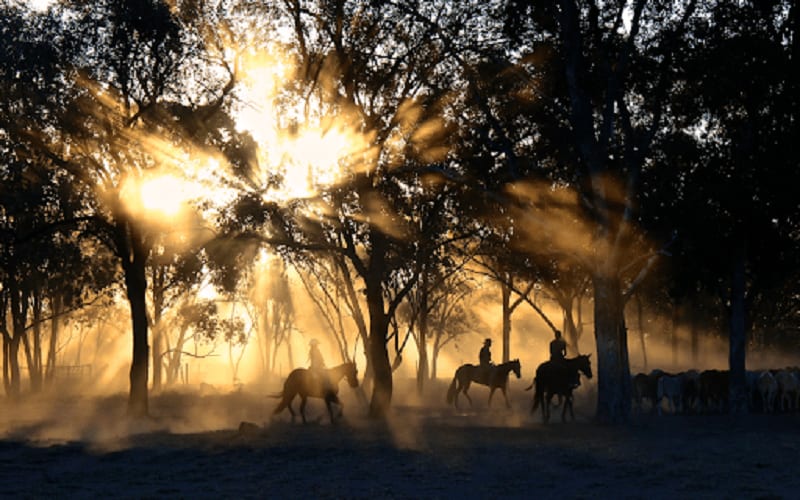 4. Boat at the Key Bridge Boathouse
Are you wanting a fun and unique way to explore D.C.? How about an exhilarating water adventure at the Key Bridge Boathouse? Right on the Potomac River, you can choose from a multitude of things to do, such as boating, paddleboarding, or kayaking. During your excursion, you can pass by the famous Roosevelt Island or make your way to the thrilling Georgetown Waterfront. At the Key Bridge Boathouse, there are many interesting classes and tours offered. You can experience Yoga on the Dock, the Monument Tour, Stand Up Paddleboard Yoga, or canoeing. And don't forget to check out the stunning Cherry Blossom Tour! This beautiful sight is one you truly won't want to miss. Officially opening in the Spring, your upcoming adventure at Key Bridge Boathouse is available by reservation only. Make sure you make yours today!
5. Tour the National Gallery Sculpture Garden
Taking a gaunt through the enchanting Sculpture Garden is an adventurous and inspiring way to get to know D.C. better. With a colorful and intriguing collection of modern sculptures, you are sure to be amazed by the artists' creativity and genius. Here you can marvel at exhibits such as the Spider, Wandering Rocks, Four-Sided Pyramid, and Thinker on the Rock.

Open from 11 am to 4 pm every day, this 6.1-acre sculpture garden is currently open to guests, and admission is free. As you plan your visit, please keep in mind that guests coming into the garden are to do so on a first-come, first-serve basis. You can enjoy food and drinks from several deluxe cafes on the premises and pick up something special to take home from the gallery gift shops.
6. Bike at the Georgetown Waterfront Park
Feeling like going for a bike ride and getting some fresh air and exercise? What better way to do that than embarking on a ride at the Georgetown Waterfront Park. Located alongside the Potomac River, this amazing park consists of 225 miles of parkland. It is the ideal place for those wanting a nice, pleasant stroll or a brisk cycling venture. You will discover a host of water fountains, pollinator gardens, and beautiful rain gardens along the pathways. Come here with that special someone or take the day to make some memories with the family. If you are feeling hungry, there are many amazing restaurants and dining options - with fantastic views of the waterfront - to choose from.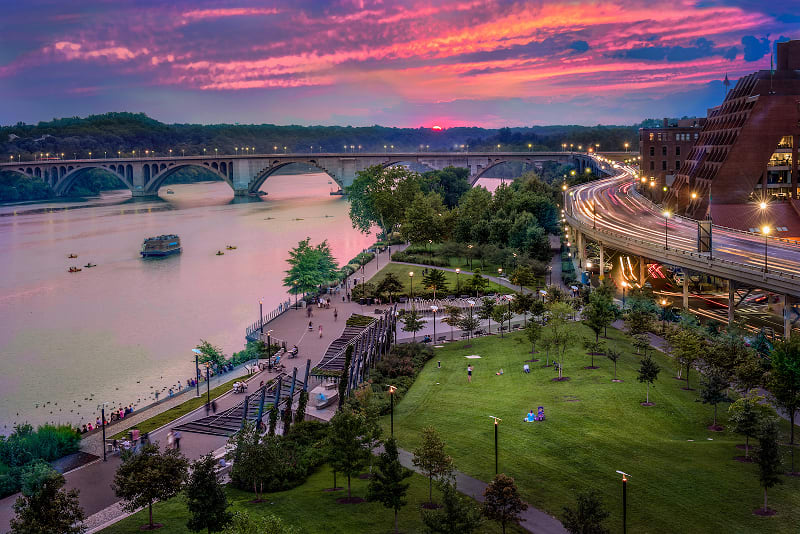 Credit: Georgetown DC
7. Have a Picnic at Kingman and Heritage Islands
Grab some sandwiches, your picnic blanket, and some friends and come to Kingman and Heritage Islands for a wonderful day in nature. These amazing, man-made islands are the perfect place to soak in the beauty of the outdoors while simultaneously munching on some delicious food and making memories with your loved ones. At Kingman Island, there is a plethora of recreational activities and things to do. You can explore and hike the trails, walk your beloved canine, birdwatch, bike, and go fishing. Or how about exploring the grandeur of nature via a boat ride? This is a fun and relaxing way to experience the island from another perspective. Whatever you are doing, you can discover plenty of opportunities to capture splendid photos of the surrounding scenery and landscape. And be sure to check out the yearly bluegrass festival!
8. Nature Walk Through Huntley Meadows Park
One of the best traits of D.C. is its passion for wildlife and conservation. A prime example of this can be seen in Huntley Meadows Park. A natural habitat for plants and animals, the park consists of forests, meadows filled with wildflowers, wetlands, and trails for walking and hiking. Along the way, you can discover benches and picnic amenities where you can enjoy a delicious lunch brought from home. At Huntley Meadow, there are also classes, programs, camps, and lots of fun activities that you and the children are sure to enjoy!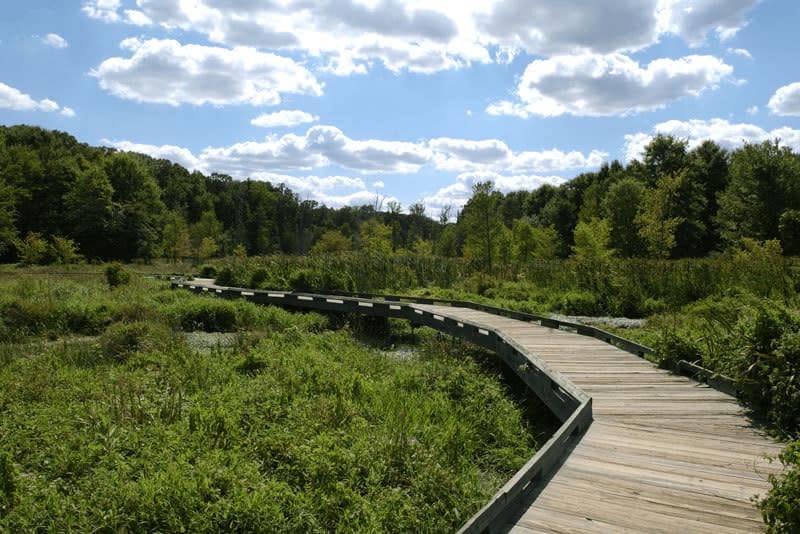 Credit: FXVA
9. Explore Mount Vernon Trail
With gorgeous views of the Washington D.C. skyline, Mount Vernon Trail is a fantastic place to make the most of your day by getting some exercise and enjoying the outdoors. With over 18-miles of a paved walkway, this trail reaches from the much-loved Theodore Roosevelt Island to the illustrious Mount Vernon Estate. Not only can you enjoy a meandering walk or brisk run through nature, but this is also an amazing place to immerse yourself in remembering the early history which shaped and formed our country. The Mount Vernon Trail is open all year from 6 am to 10 pm.
10. Spend the Day at Yards Park
As the weather grows warmer, how about cooling off and enjoying some much-needed refreshment at the splash grounds and waterfront of Yards Park? In what used to be an old Navy shipping yard, this creative and fun park features a boardwalk on the Anacostia River, lots of open spaces for picnics and reading in the sunshine, the lovely River Street Gardens, the fenced-in Dog Run where your sweet puppy can relish the chance to run free, and much more. One of the best parts about Yards Park is the multiple water features. Adults and children alike can enjoy dashing through the fountains, playing on the spray pads, and taking a dip in the shallow pool. With so much fun to choose from, Yards Park proves to be the perfect getaway for fun bonding time with the family or an evening out with friends.

If you're ready to make the move to D.C., contact Jeanne Phil Meg Team today. Named one of Washington's top real estate teams since 2016, this talented trio serves a wide range of neighborhoods. Whether you're looking for homes for sale in Capitol Hill or H Street Corridor luxury homes, this vibrant city has something for everyone.