While the nation's capital has always been known for its politics, exceptional museums, numerous historic sites, and even world-class restaurants, it is now gaining a new reputation as a city perfectly centered in one of the country's premier wine regions. Vineyards and wineries in the D.C. area are winning awards after awards for their absolutely outstanding vintages, all being produced just a short drive outside of the capital itself, making them the perfect day trip for D.C. residents to enjoy. Take a look at these exceptional winemakers in the region and start planning your treat-filled excursion today.
Chrysalis Vineyards
A vineyard dedicated to restoring Virginia to the winemaker's world stage, Chrysalis Vineyards has produced some of the best wines around the country since it opened in 1998. While they have various European grape varieties in their fields, their true passion lies with creating wines from the Norton grape, a grape that is native to Virginia. By highlighting this distinctly American grape, these winemakers can produce one-of-a-kind wines that have rivaled the world's most outstanding red varieties.

The vineyard itself is absolutely exquisite. Visitors can take their time strolling through the various walking paths around the facility, taking a break to sit and relax at any of the numerous picnic tables and benches found throughout the grounds. Of course, great wine is always best accompanied by great food, and so guests certainly have to taste a few of the treats off their delectable menu to finish off the experience. At about an hour's drive from the center of D.C., this vineyard is excellent for a day trip away.
RdV Vineyards
Nestled into the foothills of the Blue Ridge Mountains, this world-class vineyard has been producing wines that even the most trained and experienced Oenophiles rave over. RdV Vineyards' Bordeaux style meets the classic American approach to local Virginia terroir, and production has resulted in beautiful wines receiving acclaim from some of the world's harshest critics.

Taking their lead from the past, RdV winemakers carefully considered the ideas set forth by founding fathers George Washington and Thomas Jefferson who believed the area would become the "breadbasket" of the United States. Today, RdV strives to help promote local agriculture and develop the land into a paradise for winemakers and connoisseurs.

If you plan on visiting this beloved vineyard, make sure you call in advance—guests are welcomed onto the premises with a reservation. However, the effort is well worth your while. Your tour begins with a glass of Dom Perignon, after which you'll be taken through the facilities and grounds for an in-depth experience, ending your time with a wine tasting accompanied by delicious and perfectly paired local cheeses and charcuterie. If you or someone you love is a true wine aficionado, this is definitely an experience you don't want to miss.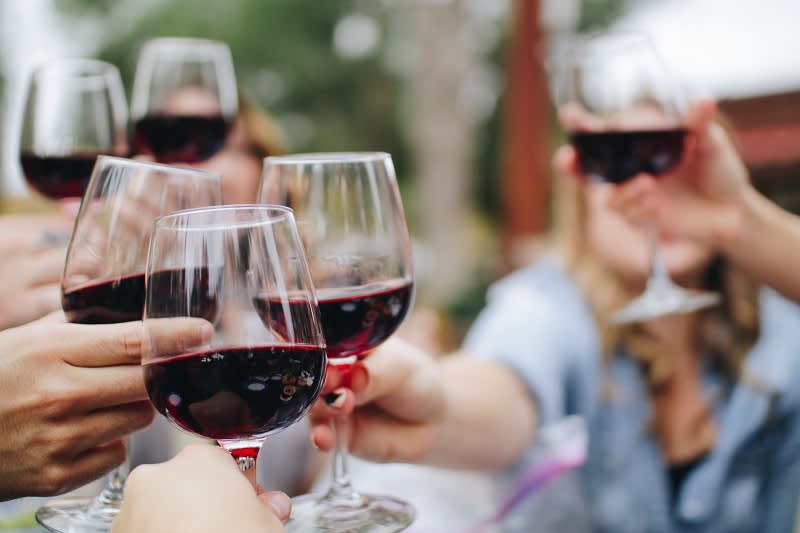 Paradise Springs Winery
Possibly the closest winery to D.C., making your way to their exquisite tasting room should take you less than an hour. The property was initially part of an extensive land grant from Lord Fairfax. Today, this intimate, family-run destination offers a one-of-a-kind experience where guests can enjoy an array of beautifully produced wines right outside of an original 1700s log cabin.

Paradise Springs only produces around 12,000 cases of wine per year and is dedicated to ensuring only their best goes into every bottle. They offer a wide variety of red, white, rosé, sparkling, and dessert wines, and so you can be sure that everyone in your party will find something they absolutely love. Guests also have the option to take part in open group tastings and private group tastings, which are led by a personal wine educator. However, make sure you keep in mind that children are not allowed on the tours as they are guided through the production area.
Three Fox Vineyards
Looking for a place where you can bring your favorite furry friend along for the ride? Then you definitely need to take a look at Three Fox Vineyards. This one-of-a-kind vineyard has no problem with you bringing your dog along for the experience. In fact, they have stunning, sprawling grounds where dogs are welcomed to run leash-free to their heart's content while their owners enjoy some of the best wine in the region while laying back on their comfy creekside hammocks.

With 15 acres of vines planted in 2002, the winery has since become one of the most beloved in the region, with wine connoisseurs and dog lovers alike flocking to their picturesque grounds. Focusing on Italian-style wines, guests can choose to try any of their numerous varieties, including whites, reds, sparkling wines, and Rosés. With each wine just as delicious as the last, you'll be glad you decided to make the hour-long drive to enjoy a perfect afternoon at this beautiful vineyard.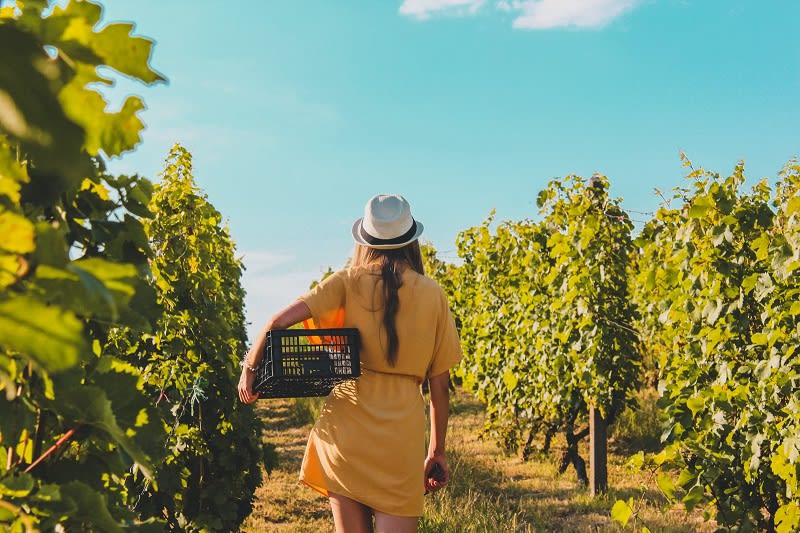 Hillsborough Winery, Brewery, and Vineyard
Guests who visit the Hillsborough Winery, Brewery, and Vineyard are in for a unique experience here in the area surrounding D.C. Reminiscent of a beautiful french countryside rather than Virginia, visitors are transported to a world filled with the most delicious wine and picturesque views imaginable.

The history of the property lends to the sense of romance found at this vineyard. Originally owned by George William, a close childhood friend of George Washington, the grounds were sold to James Nelson in 1778 and then eventually to David Lovett in 1812. In 1820, Lovett built the original house on the property and the companion barn sometime within the next decade. This barn is now the home of the Hillsborough tasting room and is one of the most beloved locations on the property to this day.

Hillsborough prefers to age their wine a bit longer than most winemakers in the region, leaving their wines to age for at least three years before they're ever poured into a glass. However, if you or one of your guests aren't a fan of wine, you may enjoy trying one of their hand-crafted beers, which can be found on tap or in cans to take home.
Potomac Point Vineyard and Winery
If you're looking to take a mini-vacation, why not travel to this beautiful, Tuscan-inspired getaway just an hour outside of D.C.? Potomac Point Vineyard and Winery is designed to allow guests to enjoy a fully Italian-esque experience from the moment they walk through their hand-crafted iron gates into their elegant and luxurious tasting room and onto their veranda, which features an Italian-style water fountain.

Of course, the wines themselves are produced in a classic Tuscan style, with many winning numerous national and international awards. This exceptional recognition has put these winemakers on the map and turned the vineyard into a wine-lovers destination.

To really round out the experience, the vineyard has a delicious bistro with a menu that includes various cheese platters, mango chicken salad, port wine, and blue cheese meatballs, and even crab cake sliders for when you're feeling particularly peckish.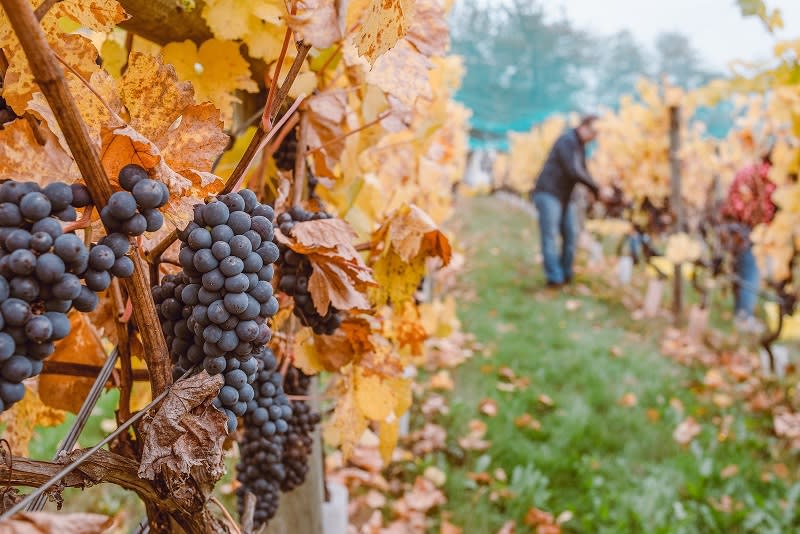 Bluemont Vineyard
One of the most beautiful vineyards in all of Northern Virginia, Bluemont Vineyard has been beloved for its stunning wines and breathtaking views since it first opened in 2007. While the Zurschmeide family has had farming in their blood since the early 1950s, they finally settled down in Bluemont, Virginia in 1993. The beautiful mountain ridges inspired them to finally plant down grapevines, with the first of their varietals, including Viognier, Norton, and Cabernet Franc. From there, the vineyard has grown exponentially, and they now offer over ten different wine selections to their guests.

In addition to some of the region's best wines, guests can enjoy an array of delectable farm-to-table delights with their in-house dining option. Offering various tasting menus, all locally sourced, visitors can experience the wonder of everything this area has to offer. After eating such a delicious meal, you may not feel like driving even the short distance back to DC, in which case you can always ask to stay at one of their romantic studio cottages and turn your day trip into the perfect weekend getaway.

The wine region surrounding Washington, D.C. is quickly becoming one of the most refined and respected in the United States. With beautiful vineyards and exceptional wines, it's easy to understand why. Living close to these world-class establishments is nothing short of a dream come true for wine lovers and foodies alike. If you're interested in looking at Capitol Hill homes for sale or townhomes in H Street Corridor, make sure you contact the Jeanne Phil Meg Team so that they can help you find the perfect property for you today.