If you've recently purchased real estate in DC, then chances are you're looking for some new cozy restaurants to try. There are many options to choose from, but if you're looking for something cozy and delicious, this is the place to start.
Seven cozy DC restaurants
Compass Rose
Compass Rose
evokes a sense of childlike wonder, innocence, and wanderlust. Described on the
Compass Rose DC twitter
as "worldly funk in your own neighborhood", you will find the interior decor of worn brick and hardwood to have a familiar feel. The menu is a blend of worldly comfort food to warm your heart and soul. Definitely try the freshly-made spanakopita and khachapuri.
Reservations for private parties of 6 to 8 people can be made for the Bedouin Tent room, the absolute embodiment of warmth and global inspiration — perfectly complementing the Moroccan-inspired menu. If you're looking for a cozy experience to beat the harsh east coast winters, then the Bedouin Tent room's ornate lamps and lanterns hanging over a large dining table are sure to do the trick. The booths on either side are lined with embroidered throw pillows — the perfect thing for relaxing and toasting your friends with a unique wine. Compass Rose is located at 1346 T Street NW.
Iron Gate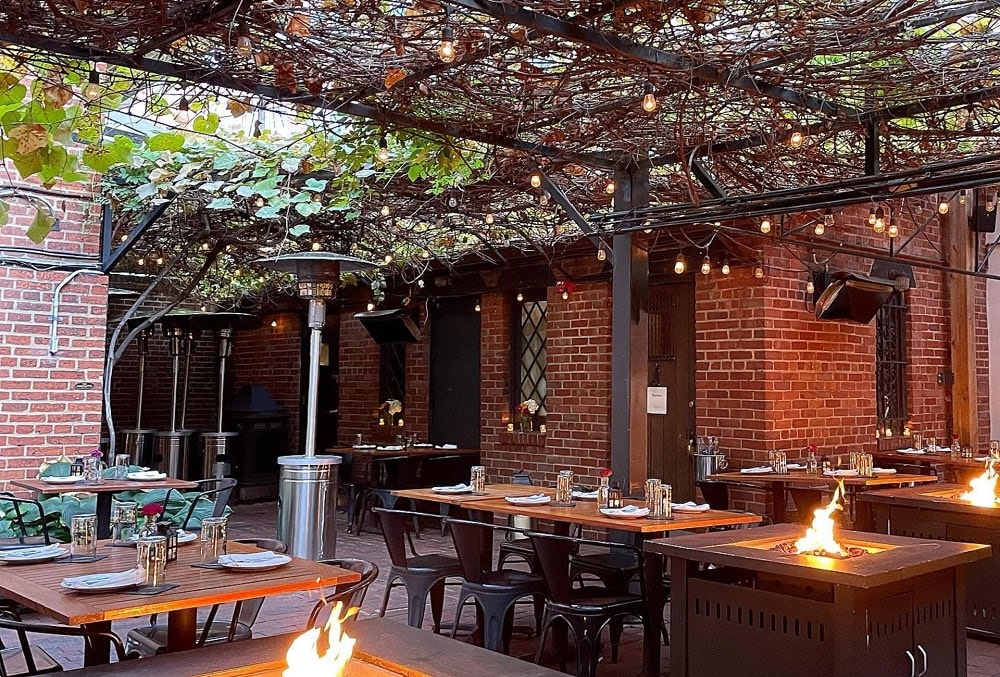 Image Courtesy of Iron Gate
Iron Gate
is the brainchild of Chef Anthony (Tony) Chittum, and while the menu was inspired by his travels to Greece and Italy, it takes advantage of the local farmers and artisans of the Mid-Atlantic region. Iron Gate's courtyard is covered by 125-year-old wisteria vines and lit by hanging lights. The interior boasts velvet couches and a brick fireplace centerpiece. While Iron Gate is unmistakably swanky and upscale, it still nails the intimate feeling of a warm rustic farmhouse.
During the winter, tables in the courtyard are lit by their own private table-side fire. Blankets and cozy dinner dishes are served up in personal-size cast iron pans. The
extensive wine list
makes Iron Gate the perfect place for an intimate dinner date for two, which is further complemented by the
Chef's Family Table
: a three-course, seasonal tasting menu. Iron Gate is located at 1734 N Street NW.
Residents Cafe & Bar
Residents
are tucked away in the heart of Dupont Circle and will effortlessly charm guests with a chic cocktail and exquisite dining experience. Residents' unassuming brunch menu plays on unique flavors like sourdough toast with fig, ricotta, and honey — and yes, that is carbonara on the
brunch menu
. Even Residents' credo, "everyone belongs to Residents," adds to the comforting environment that has made its way into the hearts of DC locals.
During the winter, the patio at Residents Cafe & Bar has been fully transformed by Bee Inspired Events, a local design company, into a winter dreamscape that resembles a cozy winter lodge. Adorning the benches are hearty knit throws and pillows — setting the mood for a laid-back and intimate experience for guests with both small and large parties. The crispy oxtail croquettes and wild mushroom risotto are the perfect dinner dishes to warm up guests looking to get out of the snow. Residents is located at 1306 18th Street NW.
The Dabney
It's hard to imagine a restaurant that embodies the spirit of 'cottagecore' more than
The Dabney
. The Dabney sources all of their food from Mid-Atlantic artisans, growers, farmers, and ranchers, all of which they cook over the wood-burning hearth that acts as the centerpiece of the open kitchen. On the trellis is a garden of fresh herbs, all visible from the dining room, where guests will relax amongst bare tables and exposed original brick walls. The Dabney aims to enchant and entertain guests with its relaxed-yet-refined service.
It's not just the environment that guests will find enchanting, but the food as well.
Menus
at The Dabney offer embellished dishes that could have jumped straight out of nature and onto the plate. Salads look like they were foraged fresh from fields and meadows, and the oyster plate appears to come on a shell of its own — harkening back to the natural bounty that inspires and provides for The Dabney's creations. The Dabney is located at 122 Blagden Alley NW.
Hook Hall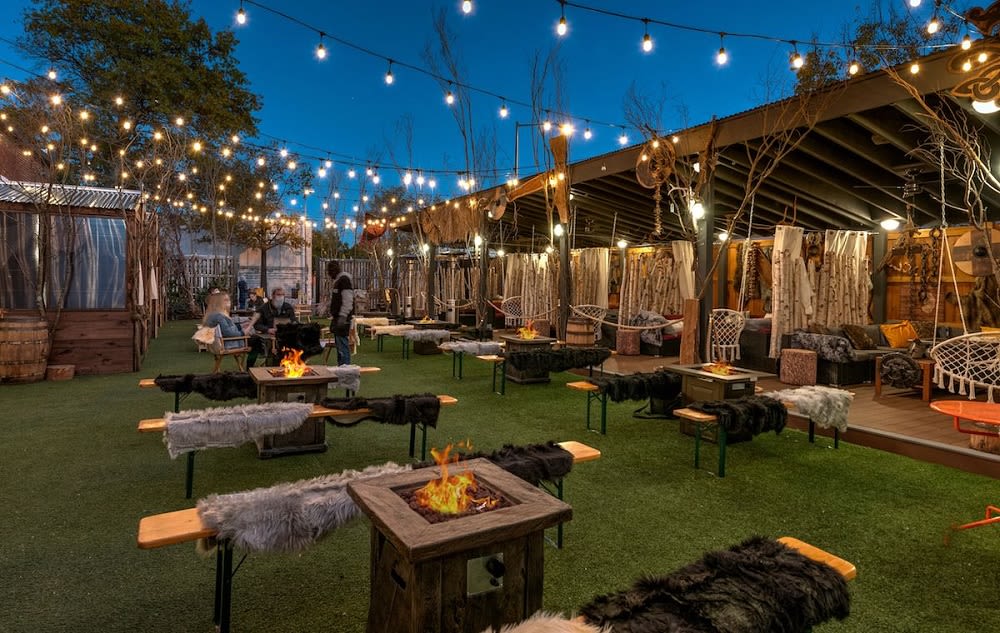 Image Courtesy of Hook Hall
While the summer months at
Hook Hall
in DC sport fun, relaxing summer bungalows, the winter season sees Hook Hall fully transformed into a
Viking Village
somewhere between Earth and Valhalla. Personal fire pits are provided for those dining and drinking in the outdoor area — and served up with hot winter cocktails like
Spiked Hot Cider or Spiked Mexican Hot Chocolate
. The private Viking huts accommodate up to six guests, feature lounge seating with warm blankets and pillows, and come with a complimentary bottle of champagne. These huts offer the ultimate Hook Hall winter experience.
Hook Hall
blends and blurs the line between a traditional tavern and an event space and aims to celebrate all of the wonderful moments in life. With their rotating selection of craft beers, cocktails, wine, and fun shareables, you're sure to enjoy your private cozy event there. Hook Hall is located at 3400 Georgia Avenue NW.
Stable DC
Welcome to
Stable DC
, where "authenticity is a must." Stable is a product of the Swiss Heritage of award-winning chefs and owners David Fritsche and Silvan Kraemer and their experience living stateside for almost a decade. Stable will warm your heart and help you shake off the cold weather with fresh-baked bread, salted fish and cured meats, potato pancakes, and fondue. Pair the fondue pot with a glass of white wine, and enjoy dipping vegetables, potatoes, bread, and more.
The setting is reminiscent of the warm, nostalgic ambiance of a ski lounge in the Swiss Alps, and the bar is inviting and intimate. The candle-lit tables are lined with red-checkered plaid picnic linens, and pillows line the bench-style booths. However, the
ski chalets
are by far the best way to experience the cozy and gourmet Swiss mountainside right here in DC. Stable DC is located at 1324 H Street NE.
DC Harvest
Last on the list is the ultimate cozy destination restaurant.
DC Harvest
serves up hearty comfort-food dishes to warm and relax the body, mind, and spirit. Dishes like shrimp & grits,
creamy heirloom carrot soup
, and desserts like the S'mores Chocolate Pot du Créme are sure to ignite a fire within. DC Harvest partners with groups like
Little Wild Things Farm
,
Locksley Farmstead Cheese Co.
, and
Sangfroid Distilling
to ensure your meal is not only delicious but locally sourced and in support of the DMV (DC, Maryland, Virginia) economy. Furthermore, all of the pasta at DC Harvest is made in-house and by hand, fresh daily.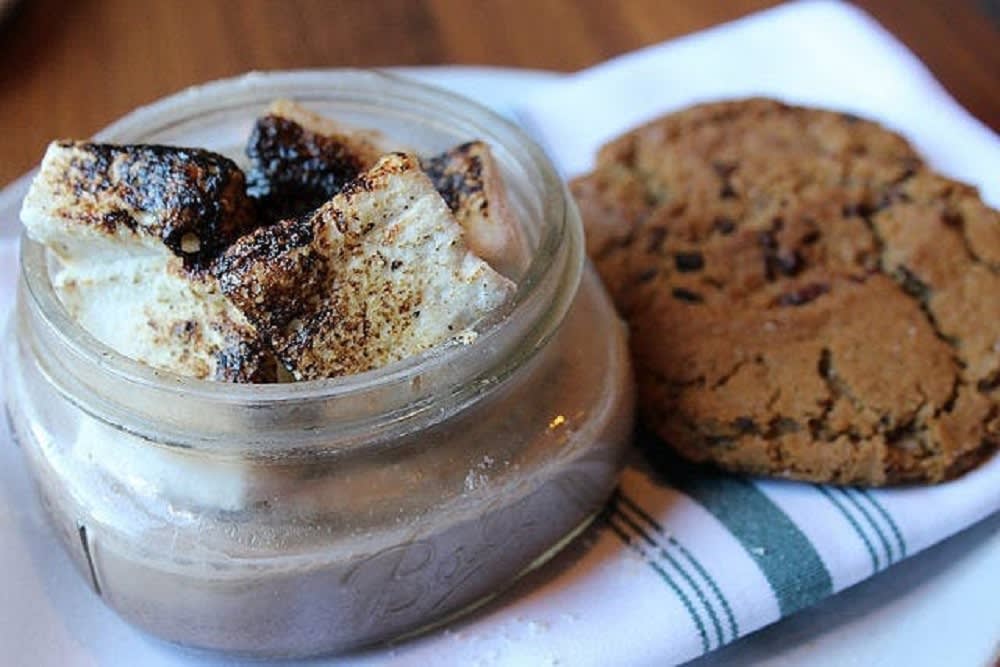 S'mores Chocolate Port du Creme, Image Courtesy of DC Harvest
At the bar, hanging lanterns provide a dim hall for patrons to relax and enjoy the atmosphere and dining experience. Guests will be greeted with tableside microgreens that double as decoration and an appetizer. However, perhaps the most convincing argument to try DC Harvest is its goal to disrupt the vulnerabilities in the restaurant industry's pay structure with its
22% service charge
that goes directly to staff. You can ensure that when dining at DC Harvest, you will not only be enjoying an amazingly cozy meal but supporting the local industry and the people who make experiences like these possible. DC Harvest is located at 517 H Street NE.
Looking for homes for sale in Capitol Hill?
Make the most of your search by contacting
Jeanne Phil Meg Team
today. The Jeanne Phil Meg Team has been named one of Washington's top Real Estate Agent teams since 2016. They're dedicated to making your search easy and your home perfect.
*Header image courtesy of Residents Cafe & Bar