Washington D.C. is home to many wonderful things. Historic monuments, dazzling cherry blossom trees, and the White House are probably what you picture when you think of Washington D.C., but there's so much more to explore. For example, did you know that you can find chocolate from Switzerland here? What about the best gelato you've ever sunk your teeth into? That's right, there are many great dessert places to try out, these 7 are just a few you'll want to make sure to stop by for a visit.
1. Ice Cream Jubilee
Victoria didn't know she would become the founder of an ice cream business when she started her law career. But the kitchen in her home became the birthplace of a new obsession, the tasting parties she hosted brought so much joy in the background of chasing her dream law position, so she changed direction and soon launched Ice Cream Jubilee. The flavors she features are inspired by her international travels, delicious cocktails, and her childhood growing up as a Chinese American in Texas. Try a scoop of Mango Habanero for an unexpected treat! The Banana Bourbon Caramel is divine, while the Coffee and Doughnuts flavor is sure to make you feel like you're at Saturday morning breakfast with every bite. Each one is made using a small batch technique, ensuring the best quality ice cream! Don't stress if you can't make it to one of the three brick and mortar locations, Ice Cream Jubilee has flavors served in pints at local grocery stores, hotels, and restaurants.
2. Olivia Macaron
Mother and business founder Ana Claudia left her prestigious career in finance to spend more time with her daughter, Olivia. In the spare time she had she decided she was going to pursue her dream and in October 2013, she started the business named after her daughter, Olivia Macaron. The shop specializes in French macarons with an American twist and serves coffee as a companion to their treats. All macarons and drinks are made using high-quality ingredients that have been purchased from sustainable sources. There are twelve signature flavors for customers to try year-round such as the popular Fruity Pebbles, the decadent Salted Caramel, and the traditional chocolate and vanilla for those who prefer a classic taste. Stop by the original Georgetown location every month to see what they've created for the rotating monthly flavors inspired by the seasons! This summer saw yummy creations like the Charcoal Lemonade, PB and J, and Black Sesame. If you don't feel like leaving home, order boxes of macarons or hot and cold drinks for delivery.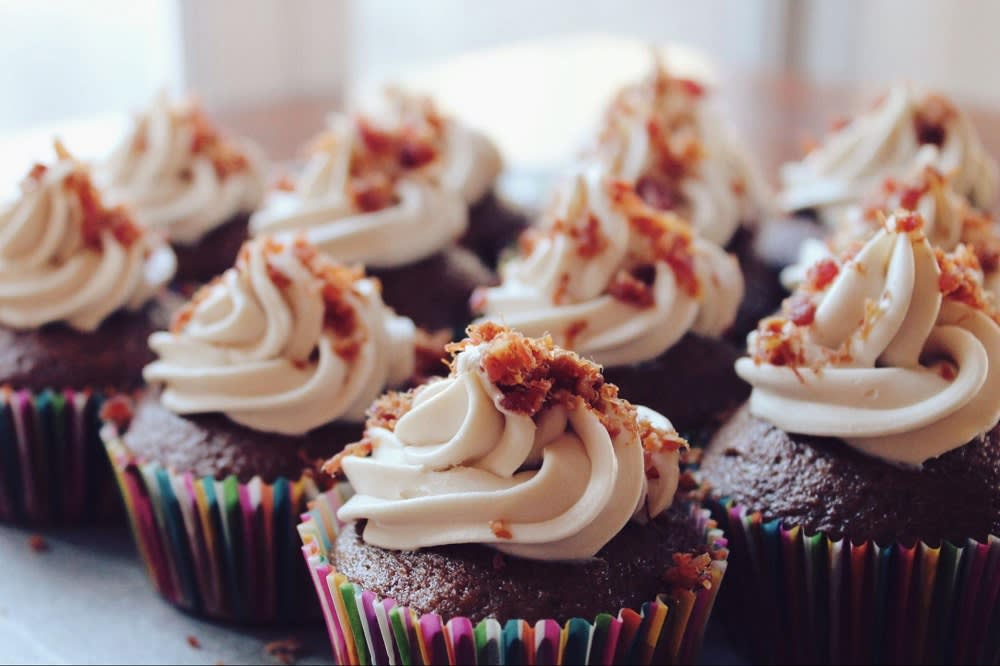 3. Baked and Wired
On Thomas Jefferson Street in Georgetown, you'll find a family-owned bakery that has been making a name for itself since 2001, Baked and Wired. Have a hand-roasted cup of coffee while you satisfy your sweet tooth on family-recipe, small-batch baked goods. Their most popular products are their large CakeCups. Individual cakes are wrapped in parchment and topped with a rich, creamy frosting to make for the perfect sweet bite. If you're looking for larger cakes, they also make six to eleven-inch cakes in your favorite flavors, Dirty Chai, Carrot, Red Velvet, Chocolate, and Smurfette; a lemon cake with blueberries in the batter layered and topped with lemon buttercream. But don't worry if you're not a cake fan, Baked and Wired also offers caramel popcorn, pies made from scratch and available by the slice, brownies, cookies, and treat bars by the dozen. Try the OMG bars with a graham cracker crust layered with homemade caramel, marshmallow, and topped with a bittersweet chocolate glaze. Come by from 8 AM to 4 PM every day and view the new artists showcased every month. Pup parents don't forget to grab your furry friend some Zillabonez dog treats.
4. Mr. Yogato
Rooted in fun, games, and goofiness, the frozen yogurt shop Mr. Yogato is the perfect place to bring your family for a midday treat. The shop began as a rocket scientist's craving for delicious frozen yogurt when he relocated to Washington D.C. Today, the shop is open every day of the week from noon to 11 PM except for Fridays and Saturdays which stay open for two hours longer. Eighteen nonfat yogurt flavors are featured, with rotating additional flavors making appearances. Eat your yogurt plain or add your choice of forty different traditional and nontraditional toppings. Fresh cut fruits, chocolate chips, fruity pebbles, and granola are all familiar toppings and they're joined by less expected options like olive oil, red bean paste, and balsamic vinaigrette. Choose something from their Rules of Yogato such as performing the entire forty-seven-second Michael Jackson Thriller dance, participate in their games of the day featured on a huge whiteboard, or play the waiter's games for a discount on your frozen yogurt!
5. The Chocolate House
If you're one of the many people who claim chocolate as their favorite guilty pleasure, you'll want to make sure to stop by The Chocolate House. Owner Marisol has curated a collection of fine and artisan sustainable chocolate from bean to bar chocolate makers all around the world for eleven years now. The eighteenth street location assembles gift boxes of eight to twenty truffles for wedding favors, bridal party gifts, dessert tables, business meetings, and any occasion where a gift is appropriate. Grab a chocolate bar bundle such as Marisol's Bar Collection, the five standout bars from the season as chosen by Marisol. For a memorable, decadent experience take advantage of The Chocolate House's private classes or group events.
6. Pitango
For the more sophisticated palate, try one of the flavors of authentically made gelato and sorbet. Pitango is the owner of six brick-and-mortar locations where customers can find the best frozen Italian treats. Self-described "purists who celebrate the classics done right", Pitango has taken multiple measures to ensure their products are fresh and stored correctly to preserve flavor. For a healthy treat, try one of their sorbets made from fresh, seasonal, organic fruit. No concentrates, flavorings, syrups, frozen or processed fruits have gone into the sorbet, Pitango juices all of their fruit themselves! Try out the tart Granny Smith or relive your childhood with fresh Concord Grape.

Gelato means frozen in Italian and can mean anything from ice cream to sorbet to custards. In the United States, gelato cannot be called ice cream due to its lower milk fat content, which is where the distinctions truly begin to be drawn between gelato and ice cream. A creamy, smooth consistency gelato is churned differently and maintains less air than ice cream, which allows for a fuller flavor profile. The true identifier of quality gelato is the taste, which is preserved in Pitango's Italian custom-made bancone a pozzetti. Flavors like Banana, Black Tea, and Star Anise are blended at the farm, churned on location, then sealed in their own individual temperature-controlled compartments, which prevent flavor contamination and freezer burn, and preserves the desired texture.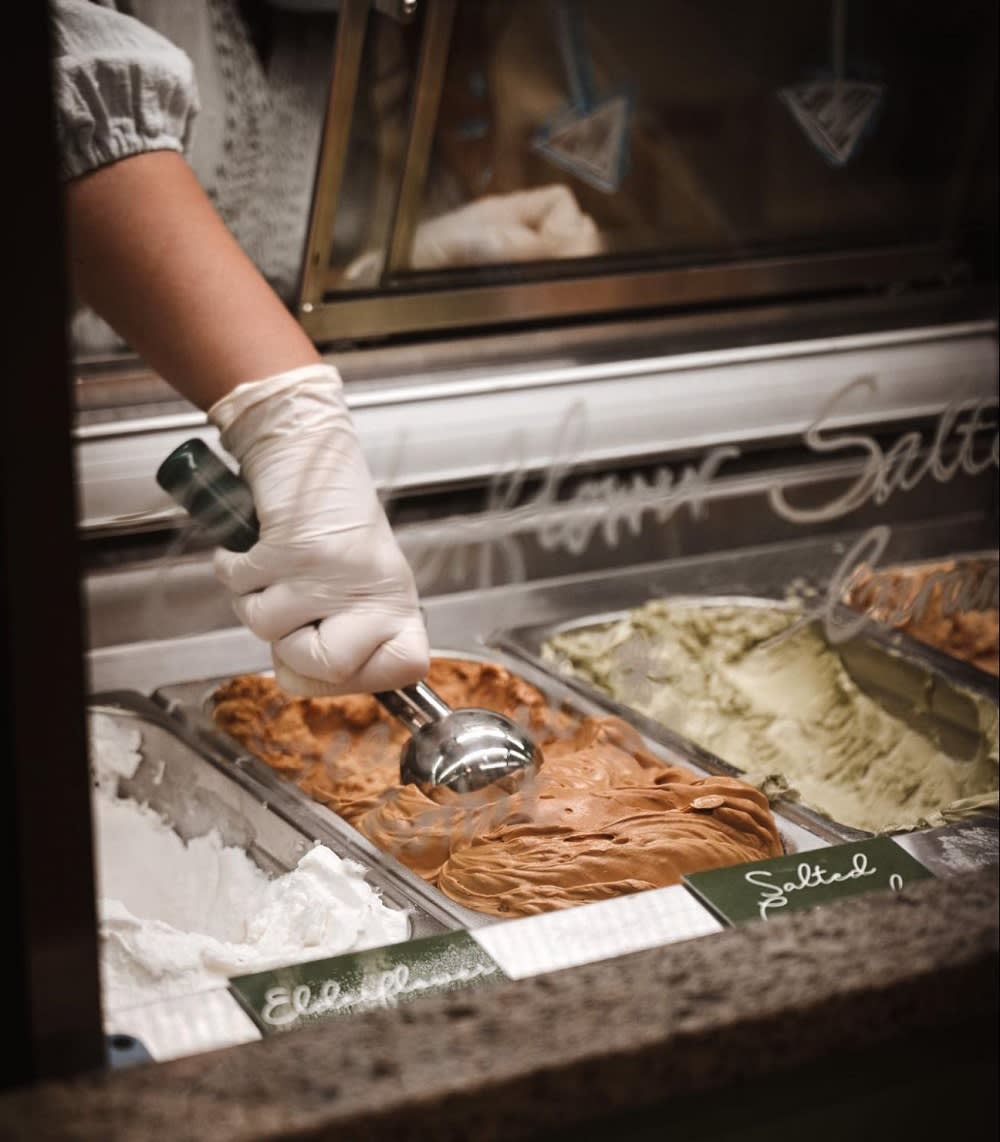 7. Captain Cookie and The Milkman
Co-owners Juliann and Kirk Francis have put a lot of time and love into founding Captain Cookie and The Milkman. The mobile bakery and dairy bar serves baked fresh cookies made from scratch, creamery milk, and made-to-order ice cream sandwiches at their brick-and-mortar location at the George Washington University, as well as three food trucks. The trucks have been hand-painted and restored to have running water, dipping freezers, and bakery ovens to make their cookies fresh on-truck. All locations feature local ice creams and milk from a local creamery Choose your favorite cookie flavor such as chocolate chip, peanut butter, oatmeal raisin, funfetti, snickerdoodle, and ginger molasses then your chosen ice cream flavor for a made-to-order ice cream sandwich that'll have you savoring every bite before it melts! They also offer delivery for their cookies via Cookie of the Month, which delivers all over the United States.

It can be difficult to squeeze in all of Washington D.C.'s best dessert places in one short trip. If you're a true dessert lover, you may find yourself wanting to make the move to the city. A Washington D.C. luxury realtor like The Jeanne Phil Meg Team will help you find the home of your dreams in your favorite D.C. neighborhood. Contact us today — you won't want to wait too long to sink your teeth into all the area's best offerings.