1. Georgetown Waterfront Park
Georgetown Waterfront Park is a gorgeous 10-acre retreat linking 225 miles of parkland along the Potomac River, stretching from Cumberland, Maryland, to Mount Vernon, Virginia. Locals adore this park for its labyrinth, fountain, and charming gardens. Visitors come here to enjoy peaceful reflection and stroll or jog the expansive pathways. Cyclists, skaters, and pedestrians have a designated path, perfect for glimpsing boaters and kayakers on the Potomac River, Key Bridge, and Theodore Roosevelt Island.

The labyrinth at the western end of the park is ideal for contemplation and seeking a tranquil moment away from the city's hustle and bustle. People of all ages enjoy splashing and playing in the water of the centerpiece fountain on hot summer days. The River Steps and Pergola are popular spots for picnicking with a beautiful view of the river, boaters, native birds, and other wildlife. Pollinator gardens along the park's pathways provide an essential place for pollinators to eat, rest, and reproduce, ensuring native flora and fauna continue to thrive and offer stunning green spaces for D.C. locals to watch the seasons change.
2. Dumbarton Oaks Park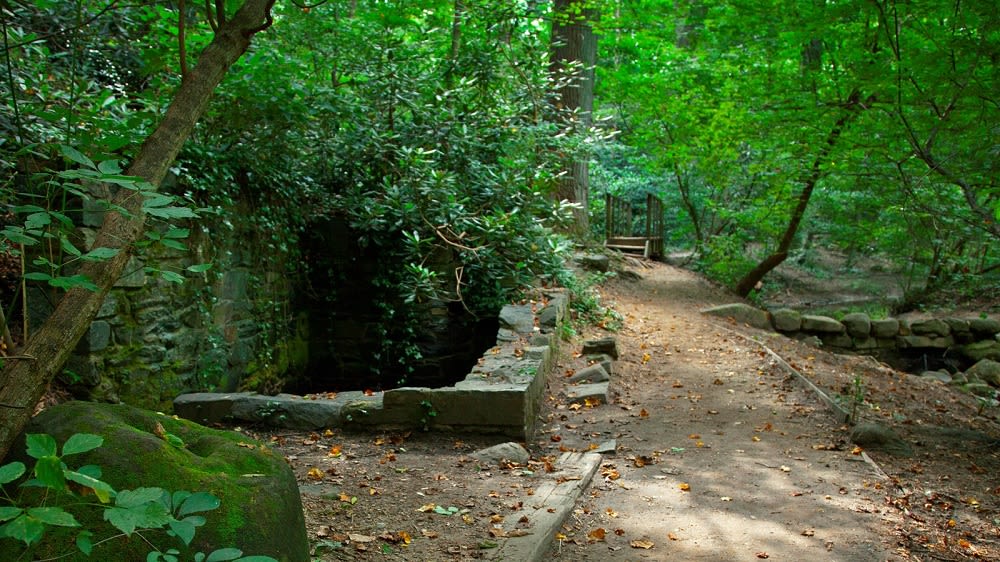 Credit: NPS/K. Cain

Dumbarton Oaks Park is an amazing historic landscape, where design features and naturalistic gardens offer visitors a unique experience. The park is an extraordinary example of one of the most critical designs by landscape architect Beatrix Farrand. She is considered the "finest woman landscape architect of her generation." The owners of the Dumbarton Oaks estate, Mildred and Robert Woods Bliss, hired Farrand to design a beautiful country-like oasis within the urban landscape. Mrs. Farrand brought their dream to life.

There are two main sections to the gardens at Dumbarton Oaks: the formal gardens owned and maintained by Harvard University and the naturalistic garden of Dumbarton Oaks Park. The park features interpretive exhibits, a trailhead, and scenic views that people often utilize for photo-ops. Farrand's vision is preserved today, and visitors take advantage of its greenery and the serenity it brings.
3. Franklin Park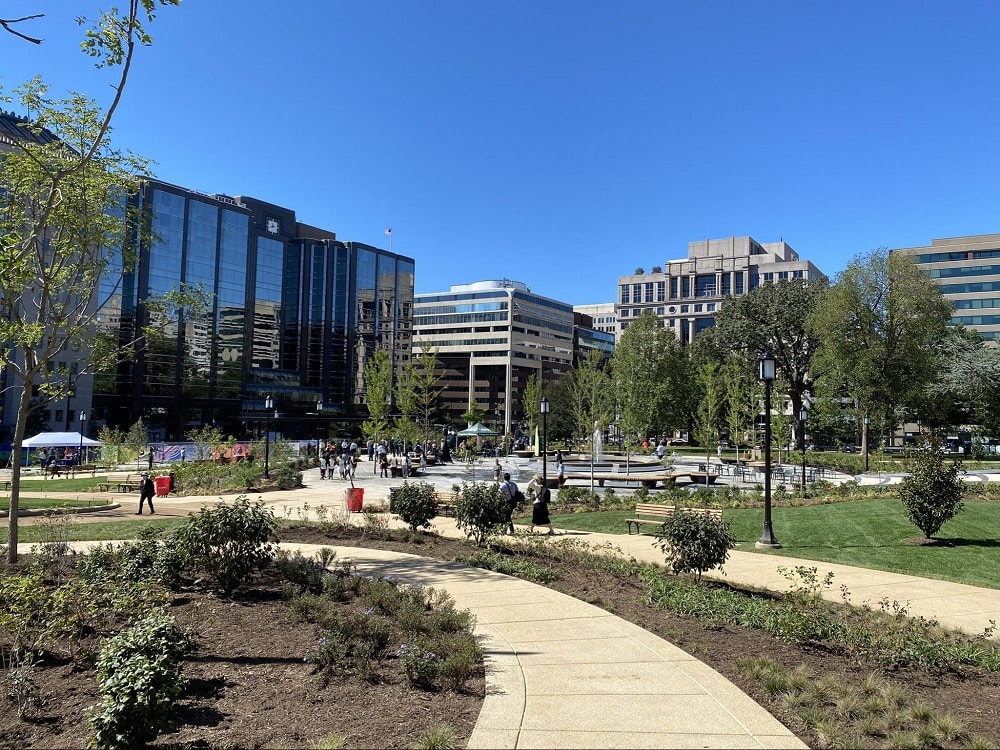 Credit: DCist

Franklin Park is Downtown D.C.'s largest green space, providing city dwellers and busy professionals with a much-needed reprieve from stressful city living. The park underwent some significant renovations, reopening in September 2021. The new park includes an upgraded and restored fountain plaza, a new children's garden, ADA-accessible sidewalks, enhanced lighting, seating, appealing green space, and a future restaurant pavilion.

Families are seen picnicking upon the green grass on any given day, and children frolic and play in their dedicated garden. Community involvement is a key component, with various events held, including meditation and yoga sessions and live musical performances. Given the expansive park with trees studded throughout and many opportunities for leisure activities and community fellowship, Franklin Park is a perfect spot to enjoy D.C.'s fall foliage.
4. Mitchell Park
The Friends of Mitchell Park (FOMP) is a non-profit, volunteer-run organization that works relentlessly to preserve the beauty of Mitchell Park to ensure neighbors and friends get to revel in its majesty for generations to come. FOMP organizes recreational activities for the community, including the annual Fall Fun Day on the last weekend of October, hosting over 300 neighbors. Summer films in the field series are held every third Thursday of the month from June to September.

Kids romp around the playground, families play catch, and couples enjoy relaxing picnics in Mitchell Park on sunny D.C. days. Active locals take advantage of the baseball/softball field, outdoor basketball court, tennis court, and green space suitable for leisure activities. Bring your on-leash dog and a picnic basket filled with tasty treats to appreciate a fantastic fall day enveloped by color-changing trees at Mitchell Park.
5. Stead Park
Stead Park is a quaint 1.5-acre municipal park in the Dupont Circle neighborhood. Its facilities include the Stead Recreation Center, a lighted basketball court, a playground, and an athletic field with a 60-foot baseball diamond. Public events such as Summer Movie Mania are held here. The park is also used by the Washington Renegades as a rugby practice field. Additionally, this community gem boasts seating, a stage, a splash pad water feature, bioretention areas, and landscaping with plenty of trees for locals to take shelter and watch neighbors enjoy a fun-filled day in the park.
6. East Potomac Park: Hains Point
Named after the engineer who designed the Tidal Basin, Peter Conover Hains, East Potomac Park: Hains Point provides D.C. natives and visitors with an array of amenities. The park features a miniature golf course, tennis courts, several athletic fields, the East Potomac Golf Course, and a public, heated swimming pool at the Aquatic Center. The historic Easy Potomac Golf Course features three distinct courses with varying features and levels of difficulty. Stop by the East Potomac Tennis Center for friendly competition upon the indoor and outdoor courts, available year-round.

Cyclists, joggers, pedestrians, and inline skaters enjoy using the park's roads and pathways. Anglers attempt to reel in a fresh catch for dinner along the banks of the Tidal Basin and East and West Potomac Park. Another favorite pastime is renting paddle boats and swan boats to peddle leisurely upon the basin and relish picturesque views. Visit in March and April to glimpse beautiful cherry trees in full bloom, or stop by in fall to be immersed in a sea of red and orange treetops.
7. Lady Bird Johnson Park
Landscape architects outdid themselves when designing Lady Bird Johnson Park. In 1968, Colombia Island was renamed in honor of Lady Bird Johnson, an award-winner touted for her crucial work transforming the American landscape and preserving its natural beauty. During spring, thousands of vibrant daffodils and tulips overwhelm the park. Carefully placed hardwood trees reflect the changing seasons. The park is ideal for quiet contemplation, leisurely strolls, picnics, photography, and taking in the beautiful surroundings.
8. Kingman + Heritage Islands Park
Family day and free boat rentals are just a couple of events available to Kingman + Heritage Islands Park visitors. Plenty of educational programming, volunteer opportunities, and events take place in the park year-round, lending itself to a vital community treasure. Kingman Island is part of the Anacostia Riverwalk Trail, and cyclists freely use the main and boardwalk pathways. There are over a mile-and-a-half of trails to explore with your on-leash canine companion and designated areas for fishing, though the fish aren't fit for consumption. The park is excellent for picnicking and photography, as over 100 species of native and migratory birds frequent the area.
9. Anacostia Park

Credit: NPS

Anacostia Park is a community parkland providing D.C. residents with a much-needed enclave to get a breath of fresh air and unwind amongst the lively urban landscape. There are so many things to do here, you'll never experience a dull moment. The open-air Anacostia Park Skating Rink is a favorite among families, offering free skate rentals and live DJ music on summer weekends. Sports enthusiasts spend their days shooting hoops, playing tennis, and using the playing fields before barbecuing with family and friends.

Little ones climb, jump, and play on state-of-the-art equipment upon several playgrounds, while fitness junkies get full-body workouts on the free fitness station equipment. In addition to unparalleled amenities, the Anacostia Riverwalk Trail boasts 3.5 miles of paved pathways to stroll and jog. Head to Kenilworth Aquatic Gardens to view the ever-changing plants and wildlife, or spot ducks, geese, herons, and bald eagles along the Riverwalk Trail. With plenty of recreation to partake in and luscious greenery weaving throughout, Anacostia Park is an excellent location to visit year-round.

Once Washington D.C. has lured you in with its endless offerings, it will only be a matter of time before you seek D.C. real estate. Contact Jeanne Phil Meg Team to assist your search for Capitol Hill homes or Bethesda real estate. This professional real estate team comprises founders of the Compass Capitol Hill Washington D.C. real estate office. Through collaboration and unrivaled knowledge, they will lead you through an optimal real estate transaction.

* Header Image: Georgetown Waterfront, Credit: Sam Kittner / Georgetown BID