Washington, DC is an infamous, colorful metropolis brimming with energy. If you are ready to purchase your first home, read on for some crucial tips for making an offer on your Washington, DC dream home.
Know what you're looking for
One of the first steps to take when buying your first home is to make a list of the things you value in your space. Knowing your budget, location, and what you want (i.e., a yard, a neighborhood with easy access to shopping and dining, quiet tree-lined streets, or a vibrant nightlife) will help you as you begin the search with your agent. It's also helpful to know what style of residence you're looking for, such as:
Single-family homes
In less densely populated neighborhoods, or if you're looking at one of the areas along the edge of Washington DC, you'll find many beautiful single-family homes of all styles. There's a lot of history here, and the houses reflect that. Yard space is a huge draw, giving you a place for kids and pets to play safely.
Rowhouses
If you want your own home but also value a location in the midst of the action, then one of DC's many row houses might be the perfect fit for you. What you trade in yard space and (sometimes) square footage, you gain in proximity to world-class restaurants, shopping, and festivals that the city is known for.
Condos
If you don't have the need for a bigger home, a Washington, DC condominium might be the right choice for you. One appeal of going this route is the fact that condos in the area can typically be found in very walkable areas, making for a potentially easier commute.
Condos can be more low maintenance than traditional homes. Washington, DC is an ever-evolving metropolis, and builders have had to accommodate by constructing condos, making the choices for these types of homes abundant.
Make your offer quickly
The real estate scene in Washington, DC moves at a fast pace. This type of environment is why it is important to work with a
Washington DC luxury realtor, like the Jeanne Phil Meg Team
, to strategically place offers on your dream homes as soon as possible.
However, when working with top real estate agents in Washington D.C., don't overlook homes that have been on the market for a while. These homes could be hidden gems that encapsulate all that you are looking for. Either way, to make a fast offer, ensure you have your budget locked down. Making a list of must-have features in your next home and figuring out how much you can borrow from a lender are also great steps to take when preparing for a fast offer.
Get prequalified
Getting prequalified with a loan will make sure that when you find the home you want, you'll be ready to make a competitive offer in the tough market. Getting prequalified will also help you have a realistic view of what homes you'll be in the running for and will make you a reliable option for sellers who have multiple offers. Your agent will often be able to help you find a lender to work with and answer any questions you may have about the process.
Time your offer
Timing an offer on a house is crucial. First-time home buyers may not be aware, but homes sell fast in the warmer months, making those seasons pretty competitive in terms of other buyers bidding on the home you want. However, there is nothing wrong with making an offer on a house in the dead of winter.
In the winter,
fewer buyers are out shopping
with their Washington, DC luxury realtor. This creates an environment with less competition. Purchasing a home in the winter, especially homes that have been on the market for a while, could lead to easier negotiations that result in seller concessions. Winter month deals, when working with top real estate agents in Washington, DC, can also lead to more generous contingency periods. January and February are the months to start making offers.
Get a radon and termite testing inspection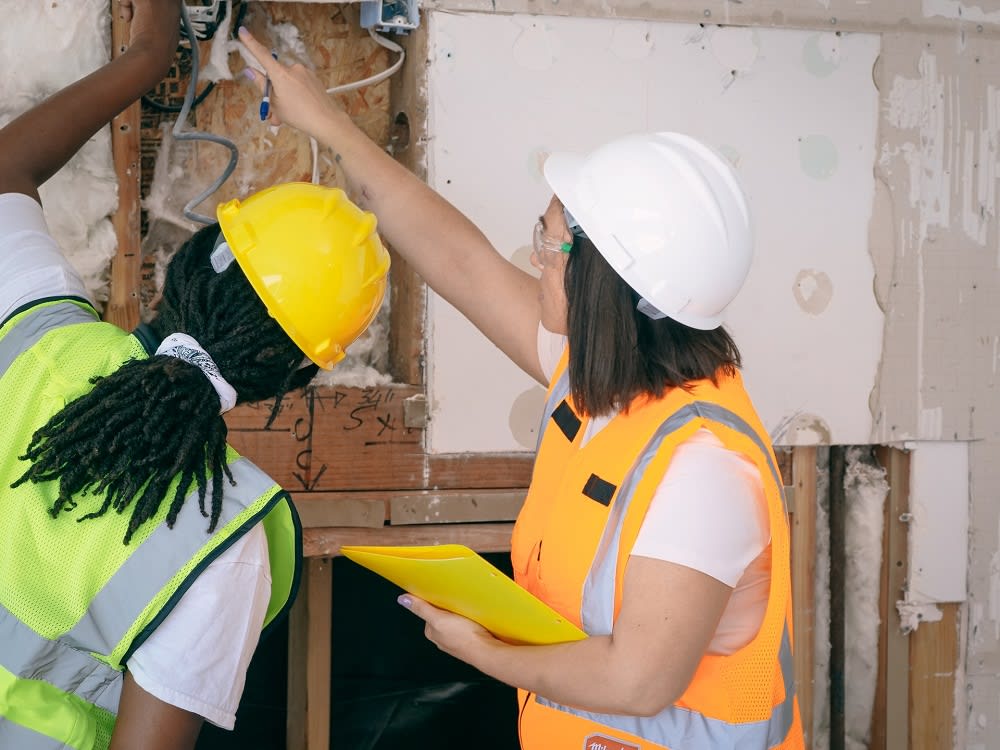 One little-known fact about Washington, DC is that it has been identified by the Environment Protection Agency as a location with higher than the usual potential for radon levels. (Radon, for those who are unaware, is a radioactive gas).
Therefore, it is prudent to include an inspection contingency about completing radon and termite tests when making your offer, with the help of top real estate agents in Washington, DC. This is especially important for older or historic homes.
Work with a top-notch real estate agent
As mentioned before, the real estate market in Washington, DC is a bit competitive, making the stress of putting an offer on a home a little heightened for the first-time homebuyer. Seek out a top real estate agent in Washington, DC like the
Jeanne Phil Meg Team
. This stellar team will guide you through your homebuying process with ease.
Looking for Southwest waterfront real estate?
Washington, DC is certainly an exciting and energizing place to live. For first-time homebuyers in the area, you must remain prepared. Working with a top real estate agent in Washington, DC is a crucial step, so reach out to trusted
Washington, DC luxury realtor Jeanne Phil Meg
when you're ready to start looking.