Originally laid out by French engineer and architect Pierre L'Enfant and George Washington in the 1700's, the Washington, D.C. metropolitan area today is home to approximately six million people, and hosts a vast array of varying architectural housing styles, each unique and impressive in its own way. Each home showcases a sense of historical character and charm based on its location, construction time period, and the area's styles and influences.
If you are intrigued by all that life in D.C. has to offer, read on about a few of the most popular home styles you may come across on your house hunt, whether you are shopping for Capitol Hill luxury homes, a bungalow in Takoma Park, or a contemporary detached home in Silver Spring, Maryland.
1. The Victorian
Many Capitol Hill luxury homes and townhouses were built in the Victorian style. Victorian homes across D.C. represent various sub-styles, such as Queen Anne, Gothic Revival, and Italianate, in addition to several other subcategories. You'll know that you're looking at a Victorian when you see the brick facade, front-facing gables, steep roofs, and decorative millwork. They commonly have multiple stories, ornate windows, and a layered look. Step inside, and you'll notice high ceilings in many in the DC area (often higher than 10 feet), sweeping staircases, and intricately handcrafted wood carpentry and iron details. The average Victorian DC townhome often has 3 bedrooms and 3 levels. Examples of this type of home are also prevalent in Georgetown and Columbia Heights.
2. The Tudor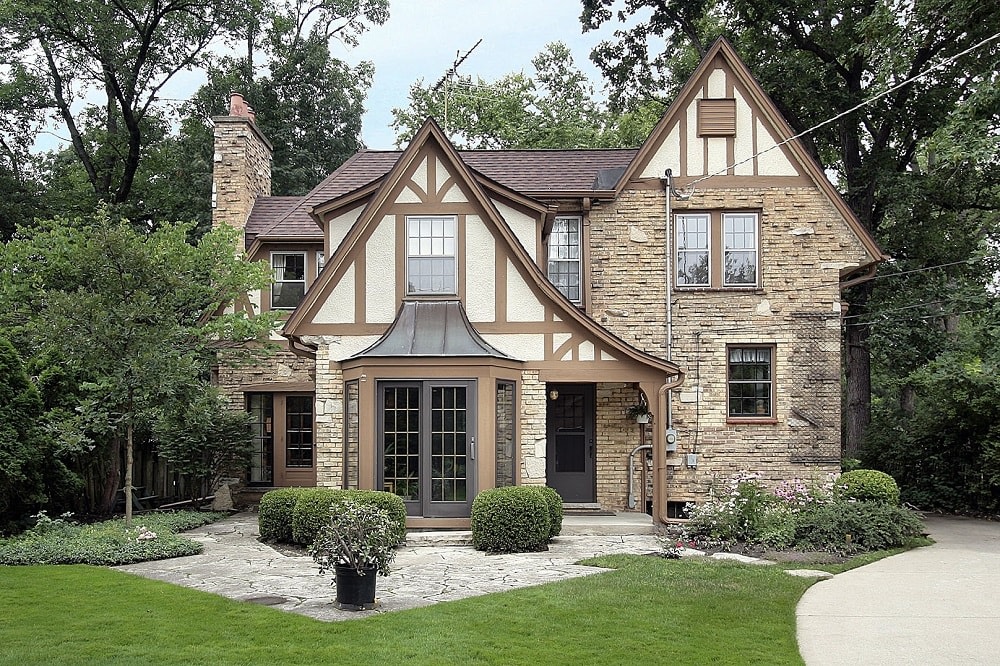 Photo courtesy of Shutterstock
Tudor architecture can trace its roots back to the United Kingdom. It was a prevalent building style during the time of the Tudor monarchs, between the late 15th and the mid-16th century. Bridging the gap between Gothic and Renaissance styles, these homes feature painted roofs and wood trims, giving off a distinctively medieval vibe. More recent examples of 1900's Tudor style architecture in DC are widespread in Petworth and Mount Pleasant, as well as throughout the northwestern corner of D.C. in neighborhoods like Foxhall Village, NW, DC.
3. The Beaux-Arts
Beaux-Arts homes are a product of the Renaissance movement and fit into the larger Greek revival and Neoclassical categories. They display symmetry, grandeur, and formality in their designs. They often feature columns and balconies in addition to fantastic sculptures of flowers and animals. The Beaux-Arts style has been prevalent throughout history and is reflected in buildings such as the Roman Arches and the Paris Opera House. If you want to see an example of Beaux-Arts design a little closer to home, check out Union Station or the Library of Congress. Many homes in the Kalorama neighborhood reflect a Beaux-Arts design as well.
4. The Colonial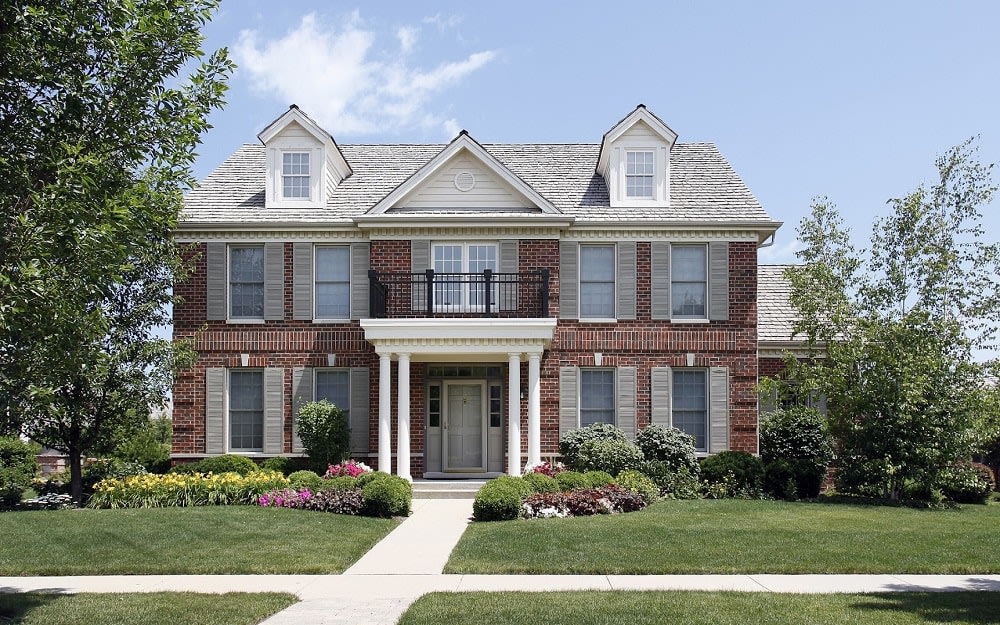 Photo courtesy of Shutterstock
Travel through any of D.C.'s many suburbs, and you'll see plenty of colonial style houses. Prevalent throughout the entire northeastern corner of the United States, they are often constructed of brick, and known for their symmetrical designs and balanced facades. The front door is usually centered, and window typically are flanked by shutters. These homes are usually two stories tall with a paired chimney, and often have a basement. In the D.C.area, colonial homes are often found in upper Northwest DC, or in suburbs like Bethesda, Maryland and Alexandria or Fairfax, Virginia.
5. The Craftsman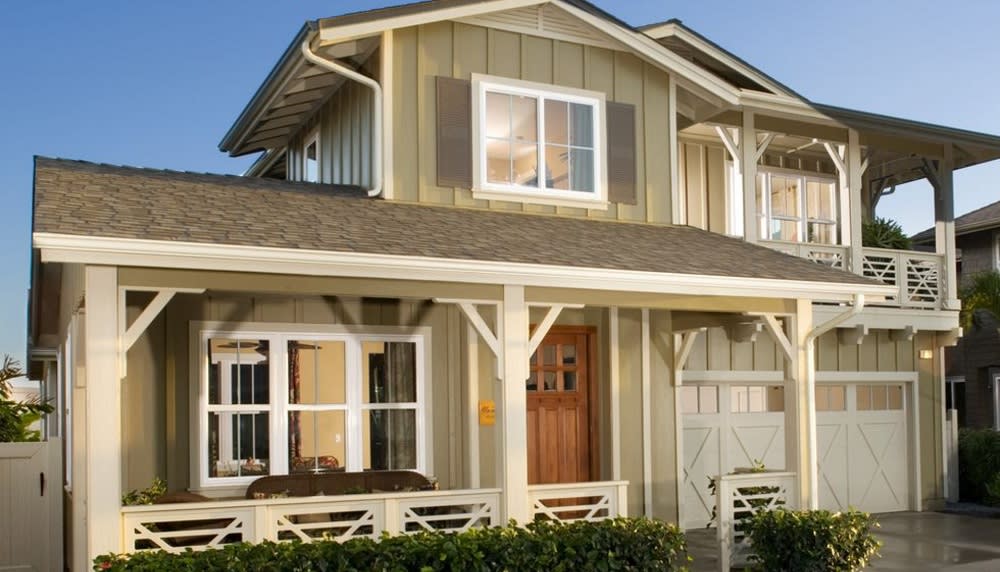 Photo courtesy of Shutterstock
Craftsman homes are one of the more modern designs on this list. They first became popular in the early and mid-20th century. These homes feature simple designs with facades that are mainly undisturbed or undecorated. They are made with superior building materials since an important point of emphasis at the time was using the best possible materials when building homes. They often have one-and-a-half stories, large fireplaces, covered front porches, and plenty of built-in cabinets inside. Many homes in the Northwest sections of DC, and in the DC suburb of Kensington, Maryland, are Craftsman homes.
6. The Bungalow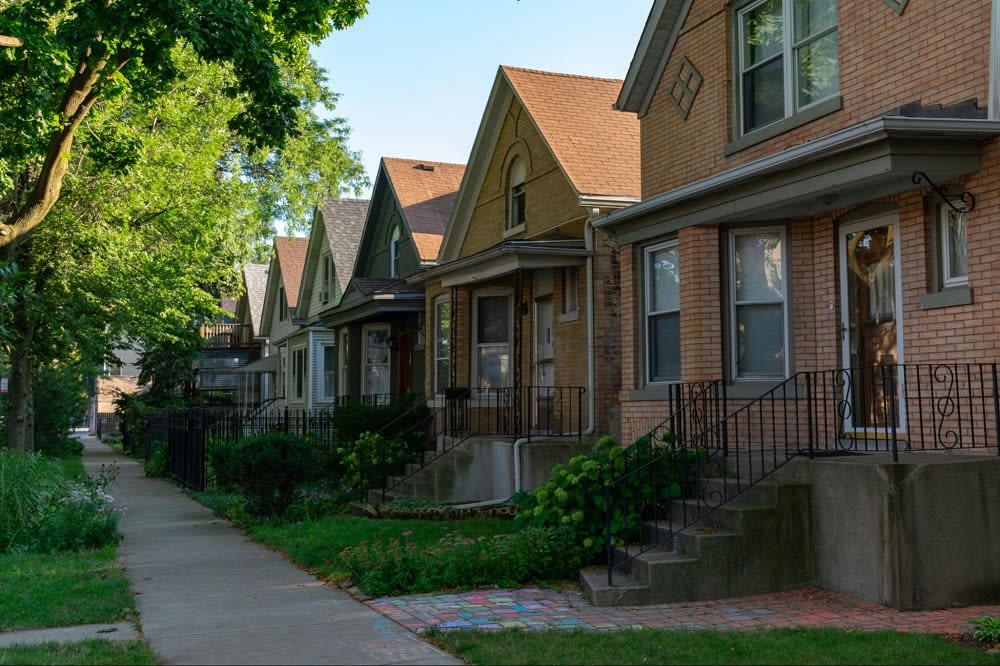 Photo courtesy of Shutterstock
Bungalows are standard in warmer coastal states like Florida, California, and Hawaii. However, you may be surprised to learn that D.C. also has its fair share of bungalows, many of which were built during the early part of the 20th century. Bungalows only have one story, containing a shaded front porch and a low roof. The Takoma Park neighborhood which spans both DC and Maryland, and Del Ray, Alexandria, in Virginia are areas you'll find many of the bungalows in D.C.
7. The Contemporary
Contemporary homes aren't unique to one corner of the city, but you can find them scattered throughout upper Northwest D.C. and the surrounding areas. They run in contrast to some of the more classical architectural styles. Contemporary homes offer open concepts inside, along with large attention-grabbing windows and long lines on the exterior. The buildings have a futuristic feel that comes from the various exterior angles and the building materials used. The National Museum of African-American History and Culture is an excellent example of contemporary design.
8. The Mid-Century Modern
There's a flood of buyers currently on the market who are only interested in mid-century modern homes, as several aspects of these designs are working their way back into style. Mid-century modern homes are often designed with open-concept living spaces that bring together your kitchen, living room, and dining room. Large windows and sliding glass doors give your spaces a more natural feel. The simplistic exterior designs with straight lines and flat roofs produce an excellent curb appeal. They aren't always the largest homes on the market, but some buyers aren't interested in having a massive mansion. Instead, they prefer to have a small- to medium-sized home with flexible rooms that can serve multiple purposes. Mid-century homes check each of these boxes; they are easy to find throughout the D.C. area, especially on the Maryland side.
No matter what type of home you're searching for, you can count on the
Jeanne Phil Meg Team
to help you find your dream home in the beautiful D.C. area. Among the top producers in the entire Washington D.C. area, the Team is trusted but their many happy past clients, as well as industry colleagues, who describe them as knowledgeable, trustworthy, and motivated. The team is licensed in DC, Maryland, and Virginia, so whether you are seeking Logan Circle real estate, a Georgetown townhome, a detached home with a yard, or a Capitol Hill luxury home, the Team members have nearly 80 combined years of experience and would love to walk alongside you when you decide you're ready to begin your real estate journey.

*Header photo courtesy of Shutterstock