Washington, D.C. has always been renowned for its beautiful historic sites, stunning museums, and exceptional restaurants, and in recent years the city has undergone a massive shift. It has grown to be the seat of national political power and a vibrant and thriving city with a prosperous economy and lively sense of community. As a result, it has become one of the most desirable living locations on the east coast. However, with so many different neighborhoods, all with their own distinct personalities, knowing where you want to settle down in this bustling city can sometimes seem like a challenge. Take a deeper look at some of these D.C. neighborhoods so that you can find the best place for you to put down roots.
H Street Corridor
One of the city's oldest and most beloved neighborhoods, H Street Corridor, has recently undergone a vibrant revival. While the community is happily looking towards building an even better future, they are also holding on tightly to the past, taking great care to restore historic architecture and preserve everything that makes this neighborhood what it is. As a result, you'll find yourself walking past perfectly restored townhouses carefully intermingled with brand new luxury apartment buildings.

In keeping with the small-town sensibility of the area, you'll find no chain restaurants here. Instead, the local community is dedicated to supporting small businesses, so you'll find the streets lined with exceptional, one-of-a-kind eateries such as Cane, Le Grenier, and Fancy Radish which is serving some of the best vegan cuisines in the city.
Capitol Hill
While many people know Capitol Hill as being the epicenter of U.S. politics, you may be surprised to learn that it's also one of the most densely populated areas in the city. Capitol Hill has more residences on its blocks than any other neighborhood in D.C. However, that doesn't mean that it feels busy or built up. On the contrary, as one of the oldest communities in the city, Capitol Hill feels incredibly quaint and peaceful, with numerous green areas and various seasonal open-air markets such as the neighborhood anchor, the historic Eastern Market, for residents to wander through.

Single-family townhouses in Capitol Hill tend to be of the neoclassical and federal style, which were the most popular when the neighborhood was predominantly built. However, there are also numerous new builds for you to look through if you're interested in something more modern.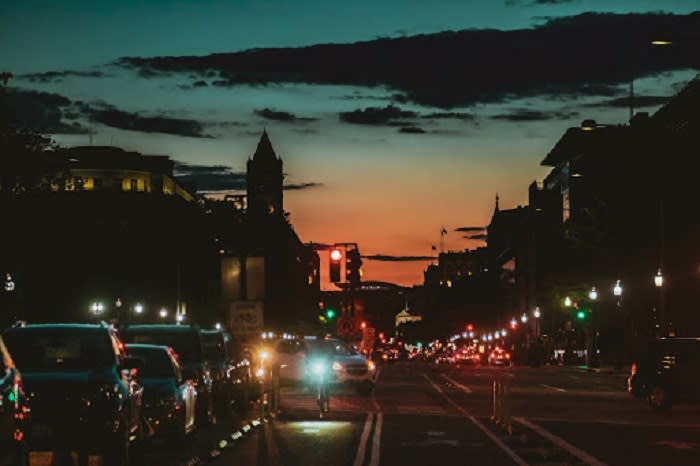 Southwest Waterfront
The Southwest Waterfront has undergone a massive renovation in recent years and has quickly become one of the most desirable locations in the city. Recent new residential and commercial construction along the Potomac River and surrounding streets has turned the area into a luxurious and elegant community with a laid-back feel and peaceful vibe. This neighborhood is ideal for young professionals and established entrepreneurs alike.

The community itself is filled with an array of dining and entertainment venues for residents to enjoy, including:
◾ Nationals Park
◾ The Anthem
◾ The Arena Stage
◾ The Maine Avenue Fish Market
Shaw
If you're hoping to move into the hippest, trendiest community in D.C., then look no further than Shaw. Rich in history and culture, Shaw is a vibrant and eclectic neighborhood known throughout the city for its energetic nightlife and delectable dining scene. Here you'll find some of the trendiest restaurants right next to some of the city's most historic homes.

Shaw has undergone its very own renaissance in recent years, with the neighborhood looking to create the perfect blend of old and new. As a result, you can find beautiful federal-style townhomes in Shaw all within walking distance of every possible convenience, including grocery stores, unique boutiques, bustling cafes, and more.
Logan Circle
The home of the renowned jazz musician Duke Ellington, Logan Circle is one of the most tranquil and easy-going neighborhoods in D.C. Known for its historical significance and old-world charms, this exceptional neighborhood is full of turn-of-the-century mansions and exquisite townhomes where residents can enjoy the best of both the old and new worlds.

Not only is Logan circle filled with one-of-a-kind boutiques and high-end shops, but the community can also be a part of the happening local bar scene and vibrant restaurants in the area like TILT, Le Diplomate, and The Commodore, which have definitely helped to make it one of the most popular neighborhoods with the young professional crowd.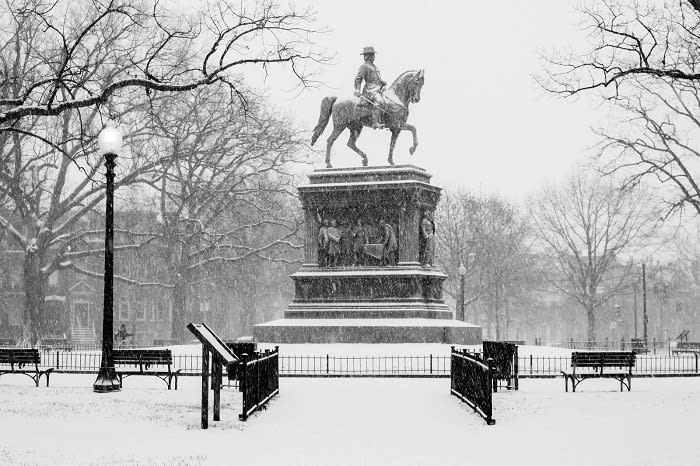 U Street Corridor
Known as the center of the city's music scene, you'll find yourself listening to jazz, blues, rock, and even go-go music as you make your way through the streets of the U Street Corridor. Having always been D.C.'s artistic and cultural home, this vibrant and lively community has seen some of the Capitol's most turbulent times, including the civil rights movement, race riots, and numerous protests. However, the district has taken these scars and turned them into beautiful pieces of art, embracing the beauty and importance of the past and helping it turn the neighborhood into something extraordinary.

Nowadays, the community is home to one of D.C.'s most eclectic and diverse dining scenes. Residents can find everything from the famous Ben's Chili Bowl to El Centro DC or Shebelle Ethiopian Cuisine & Bar, which offers some of the most authentic and delicious Ethiopian food in the city.
Dupont Circle
One of the newest neighborhoods in the city, Dupont Circle is also one of the trendiest. Known for being the center of LGBTQ+ life in the city, this community is full of hip boutiques, lively bars and restaurants, and some of the best nightlife around. There are also numerous museums, historic homes, art galleries, and bookstores in the area, which has made it an ideal location for families and anyone interested in exposing and educating themselves regularly.

Single-family homes in Dupont Circle tend to be on the pricier side, with the average home and condo values reaching nearly half a million. However, the highly-rated schools, luxurious community lifestyle, and beautiful parks and recreational areas make this area one of the most popular in the city.
Columbia Heights
If it's the diversity you're after, Columbia Heights is the place for you. This one-of-a-kind community's small-town charm and picturesque streets have attracted residents from around the world for decades, and the impact of the multi-cultural population can be seen throughout the community in the array of shops, restaurants, entertainment venues, and annual events.

Residents of Columbia Heights can enjoy live performances at the Gala Hispanic Theater, Sunday drum circles in Meridian Hill Park, get a taste of Laos at Thip Khao, and grab a bite of local produce from the seasonal farmers' market. This community has a little something for everyone and makes sure that every neighbor feels welcome and involved from the moment they move in.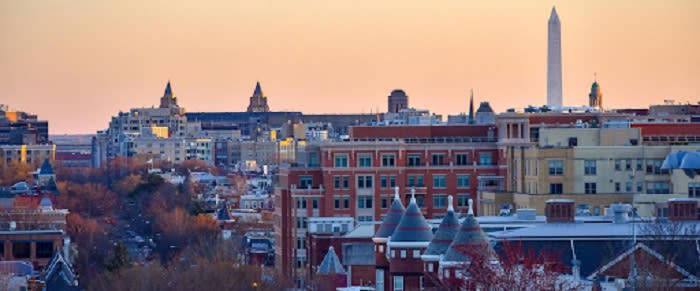 (Credit: Washington.org)
American University Park
This community comes with all the advantages of a lively college town without having to worry about the noise and business. American University park makes sure that residents can enjoy a quiet and peaceful lifestyle while still having access to the conveniences and cultural benefits of big-city living. With the namesake university right around the corner, this community has access to numerous museums, art galleries, and libraries within walking distance, making it perfect for a family with little ones and young professionals alike.

American University Park property tends to be some of the largest on the market, with most boasting large front and back yards as well as the classic white picket fence so many prospective buyers dream of.
Bethesda
If you're looking for a community with easy access to D.C. without having to live in the city itself, then Bethesda, Maryland is a great option. This thriving community offers every comfort of small-town life all within the Metro D.C. Area, allowing residents to quickly commute to any D.C. business from the beauty and tranquility of their 19th century Bethesda home.

This community is perfect for anyone who enjoys an active lifestyle, which is why it's become such a popular option with growing families as well as the younger crowd working in D.C. The vibrant community has helped build a lively dining scene with various local restaurants and cafes lining the town's streets. Residents can also enjoy the multitude of parks, outdoor recreational areas, and open-air shopping centers.


Washington, D.C. is quickly becoming one of the most popular cities to live in on the East Coast, with people flocking to the various communities for their vibrance, beauty, and sense of community. Finding the ideal neighborhood that has everything you've ever hoped for will be the best step to help you feel at home. Contact the experts at the Jeanne Phil Meg Team and let them help to find you that perfect property today.